Lee Roland reports
Camera systems for RCVs have improved safety for drivers, crews, and other road users as well as providing operators with a valuable visual record. Now, thanks to a new five-camera system, Dennis Eagle believes it can improve safety and reduce accidents and insurance claims still further.
Dennis Eagle's new factory-fitted, fully integrated 5 Camera Recording System is designed specifically for refuse collection vehicles to provide improved protection for crews, the public, and the operator by seeing and recording everything that happens around a vehicle.
The system uses five 720-pixel high-definition cameras. Four are positioned to provide a full 360-degree field of view around the RCV, mounted at the front, sides, and rear. The front-facing camera has a wide-angle lens to give a broader field of view.
Crystal-clear images from these cameras are displayed in real-time on a seven-inch in-cab screen and help the driver manoeuvre more safely. The fifth camera is focused on the vital work area, ensuring extra protection for crews.
The system has been designed so that the nearside view is automatically shown when the left indicator is activated. It ensures drivers can see cyclists in this dangerous nearside area. The rearview is shown when the vehicle is put into reverse gear. It highlights obstacles – including people – in the path of the truck. Footage from all five cameras is recorded by an eight-channel system on a solid-state 1TB hard drive, which is both vibration and shock-resistant (unlike ordinary hard drives where spinning discs are prone to jump when there is an impact). The system is ideal for working trucks and ensures vital recordings of incidents are not lost.
Approximately two months' worth of recordings is stored by the technology to ensure a clear record is available for insurance claims and court proceedings, which can arise several weeks after the event. And a unique 'crash reconstruction playback' feature means any bumps or jolts to the vehicle are quickly found by anyone reviewing recordings.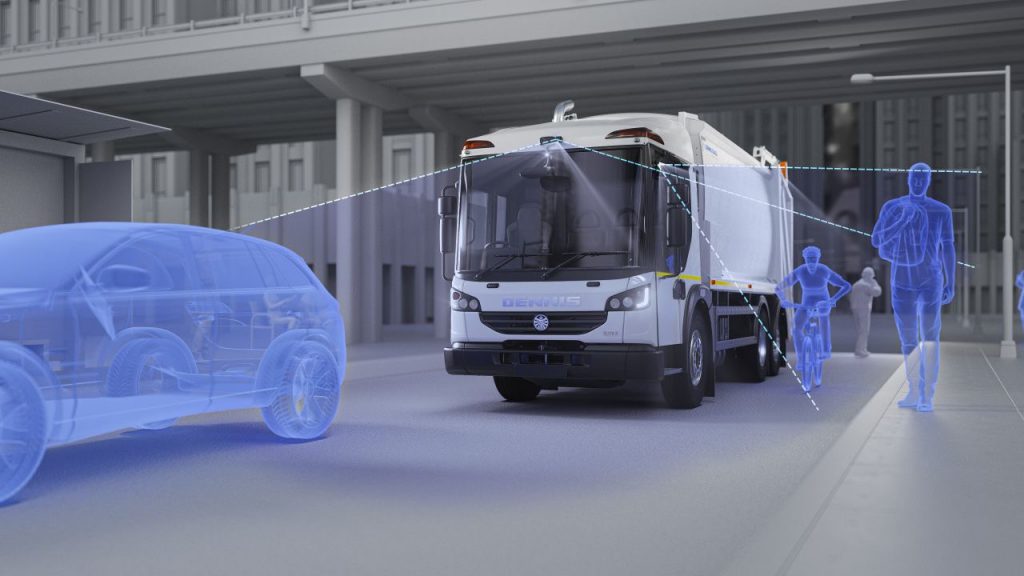 The first RCV fitted with the new system was delivered to Torridge District Council in Devon this summer, a Dennis Eagle Elite chassis with Olympus body and Terberg lift. The council's Waste and Recycling Manager Richard Haste says the system is, first and foremost, about the security of council staff. 'Like all local authorities, we get insurance claims against us that are not always honest. With this system, we will be able to see and record everything that goes on around the vehicle. It will not only enable us to refute fraudulent claims but will also help us accept liability when it is our fault and, hopefully, help us to learn from it.'
Richard adds that it is not just about reducing the cost of these claims. 'We will also be able to reduce the cost of the time spent dealing with them. We do what we can to keep our maintenance bill down, but we do have to expect a few scrapes.' Another specific benefit of the 5 Camera Recording System is that it can be fully integrated with the DE-Connect telematics system. This technology enables footage to be downloaded in real-time, so back-office staff can see live video or recordings before the vehicle returns to the depot. And it also allows them to carry out necessary camera system health checks.
There are other benefits, as well. Operators can save time or money downloading footage, confirming bins were not presented or were missed, and the system allows the back office to see any hold-ups on the round so alternative routes or schedules can be arranged.
The whole system is factory fitted by Dennis Eagle before delivery. There are no delays in production lead times for this reason. It also means that the entire system comes with full Dennis Eagle aftermarket support, including timely maintenance, prompt repairs, and parts fully stocked and instantly available via the company's electronic parts catalogue.
The time, cost, and efficiency savings of the one-stop-shop are a definite plus as far as Richard Haste is concerned. 'Since this is an all-Dennis Eagle RCV, we've got one point of contact for everything, from the time of the order through to delivery and the aftermarket services. It makes life a lot simpler.'
Dennis Eagle's Technical Sales Support Manager Simon McCulloch says: 'We are in a unique position in the industry as we can offer everything under one roof, and that adds significantly to the efficiency of the 5 Camera Recording System. Designed specifically for RCVs, the technology is based on our knowledge of how operators work, both on the streets and in the back office. Putting that knowledge into practice led to the development of a fully integrated five-camera system as opposed to the four-camera systems widely available.'
Simon says this is not just a question of whether five cameras are better than four. 'The key here is that footage from the fifth camera, which is specifically focused on that vital area where crews are working, is also recorded on the hard drive. What happens in this area is crucial, but other systems have not always recorded this footage. The fifth camera offers much better protection to both the crew and the operator.'
Simon explains that operators can not only identify and iron out any inefficient working practices, but can also use the footage as evidence for crews and operators in insurance claims and court cases. There are also the benefits that all camera systems bring, including fewer accidents, lower insurance premiums, the certainty brought to insurance claims and court cases, and the protection for crews, other road users, and operators themselves. 'The benefits of a fully-integrated five-camera recording system are numerous, and a single point of contact for all your vehicle's needs can save operators so much time and frustration,' Simon adds. 'Safety and certainty have never been easier to achieve.'